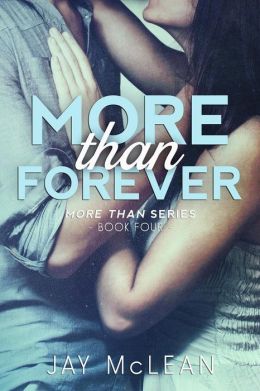 Title: More Than Forever (More Series Book 4)
Author: Jay McLean
Published: July 12, 2014
Source: ARC provided for honest review
Links:
Barnes and Noble
Amazon
Synopsis:


-LUCY-
There is a love so fierce it cannot be measured.
A heart so strong it will never slow.
There is a promise so sure it can never lie.
He promised me that love forever.
Even when it wasn't enough.

-CAMERON-
Forever. Everlasting. Eternal.
There is no measure of time.
No sounds of the ticking of a clock.
Just the rising and falling of the sun.
And our own sense of forever.

But our forever isn't always
I look at my life differently now. It is no longer one solid life. It is split up into the
BEFORE
and the
AFTER
. When a book is written in such pure form and it changes things, it changes everything about you, you can no longer continue living the life you were before. So now there is
BEFORE MTF
and
AFTER MTF.
I love when a story takes you on a journey. A journey of loss, pain, healing, finding love, doubting yourself and your passion, realizing that life isn't perfect and it won't always be easy. It' real and raw and emotional. It is Jay McLean magic at its finest. I don't think a book can get more perfect than More Than Forever.
This book was supposed to be about love that will continue on into the FOREVER. But that shit is for the fairy tales. This book, gawd, this book was a roller coaster full of ups and downs. I cried so hard I wanted to vomit. I felt emotion, every ounce of pain. I laid in bed, crying my eyes out, into the early hours of the morning. I couldn't stop, even though the pain was so unbearable at times, I couldn't STOP.
There was laughter, there was perma smiles, there was WTF why would you do that? Why would HE do that? Why would SHE do that? I just couldn't understand how a love like theirs, a pure unconditional, knock you off your socks kind of love, has to be tested?
Their love started off as young love and what young love lasts? LUCA love last. IT HAS TOO. If their love can't survive the test of time, then what love can?
It's not just a story or words on paper. The words become wrapped around your heart, your soul and your very being. They course through your veins and become the reason you breath. That is the only way to really read this book. You have to become one with it, you have to live it and then, only then will you really under stand what MAGIC is.
Like every other Jay McLean book, we have get the most amazing side characters. She brings back the old ones that we fell in love with, we get the most amazing parents (one day, hopefully, we will get books about them. I really want a Marky Mark book) and we get more of Lucy's brothers. All of these characters make the book, SO MUCH MORE. They add to the store, they bring it to life right along with Cam and Lucy. That is what good writing is.
This is WITH-OUT A DOUBT, THE BEST BOOK EVER WRITTEN BY JAY McLEAN.
If the writing world gave OSCARS to characters in a book, CAM and LUCY would be the WINNERS!!!!!
Jay McLean you have gone above and beyond the writing world and I am not worthy of your brilliance. You have brought me to my knees and I can't seem to get my ass off the ground.
From start to fucking finish this book grabbed me by my invisible balls and might still have a hold of them.